Men's Ministry
As the Men go, So goes the Family
As the Men go, So goes the Church
If we are the Men of God's Word and Obedient,
Our families will be strong
Our church will be strong In Christ
MEN'S MINISTRY OPPORTUNITIES
"Your Relationship with The Woman You Love", a six week topical study, Tuesdays, through May 28th at 6:30pm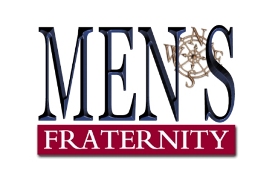 Improve Family Life and the Local Community
Out of a deep desire to see men in the greater Manhattan area rise-up and embrace authentic manhood, Men's Ministry has partnered with Men's Fraternity as an outreach to our community. When men connect in life-changing ways, a powerful ripple effect touches families, workplaces, and the church.
Teaching Manhood to Men

Imagine the transforming power of men coming together within the community to honestly examine their lives and take the courageous steps necessary to embrace authentic manhood on a journey to become who God intends them to be. That is the purpose of Men's Fraternity.
Deeper connections with God and other men inspire participants to connect more meaningfully in all facets of their lives. They climb beyond the walls of isolation and aspire to a biblical viewpoint marked by integrity, boldness, and compassion. Through this powerful series, men learn to reject passivity, accept responsibility, lead courageously, and expect God's greater reward.
The True Power
The true power of Men's Fraternity lies in bringing men together on common ground to learn together and listen to each other. Bonds of true God-centered friendships are formed as men encourage each other week- by-week to more fully embrace a godly view of manhood.
The Quest for Authentic Manhood sets out to answer some questions that are
universal to men.
What makes a man a man? A real man?
How does one become a man?
Is there a moment when it happens?
What is it that holds men back from their true masculine destiny?
How should authentic manhood express itself today?

Father-Daughter Project
The Hope Chest Project Men, build memories with your daughter by constructing a Hope Chest together. Build something that will represent your love for her. Master Craftsman, Lowell Regehr, will guide you step by step. Contact Lowell: lowellr... [
more
]

Men's Opportunities
Men's Fraternity Imagine the transforming power of men coming together within our church and community to honestly examine our lives and take the courageous steps necessary to embrace authentic manhood on a a journey to become who God intends us to be. T... [
more
]
Men's Study Groups
Men's Fraternity is a series of three one-year-long studies: Beginning with The Quest for Authentic Manhood Followed by Men's Fraternity Two - Winning at Work and Home Concluding with Men's Fraternity Three- The Great Adventure ... [
more
]